Every year from June to September, the Ecuadorian coast is visited by these giants of the sea, making us an impressive whale watching destination.
Females are 16 meters, with an approximate weight of 80,000 pounds. Humpback whales are dark gray or black and white.
They can live up to 50 years. They live and travel in groups of 7 to 10 individuals. They feed on sardines and other crustaceans. They communicate with each other through low-frequency and under-water sounds.
Their habitat is at the south part of the continent, in the Antarctic region, where there is abundance of fish, their main food. As they are migratory mammals, they begin their journey through the Pacific Ocean to the north until they reach the coast of Ecuador. This journey of about 4,320 miles takes about 3 months.
HUMPBACK WHALE WATCHING TOUR – FULL DAY ALL INCLUSIVE
ITINERARY: Departure from Guayaquil 07H00 – Departure from Salinas 18H00
A 2 hours journey on the Guayaquil – Salinas road. Upon arrival you will take a boat to sail 1 or 2 miles off the coast in search of whales for about 1 hour. Return to enjoy the beach and a light lunch. Visit to the Chocolatera and back to Guayaquil.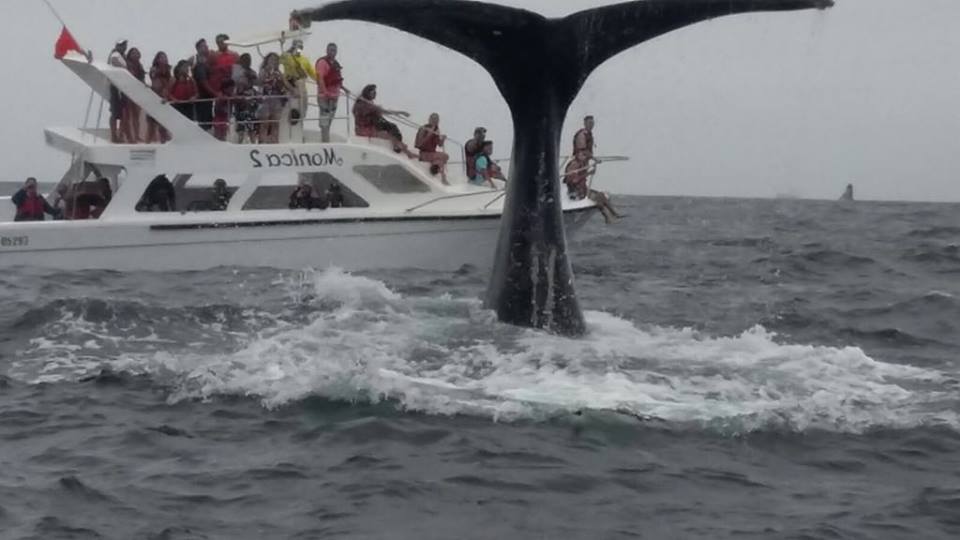 HUMPBACK WHALE WATCHING TOUR – 2 DAYS
ITINERARY: Departure from Guayaquil 07H00 – Departure from San José, Santa Elena 18H00
DAY 1:After a journey along the Pacific Highway to Puerto López, Province of Manabi, you will take a yacht to sail off the coast to watch the humpback whales; you go to Isla de la Plata where you will disembark for a walk and bird watching, to enjoy the marine fauna and to snorkel. You will continue to San Jose, Province of Santa Elena to stay at the Hosteria Cuna Luna and enjoy dinner.
DAY 2:After breakfast at Hosteria Cuna Luna, you will have a free day to enjoy the beach and then back to Guayaquil.